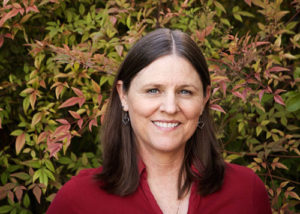 I love what I do. I'm innately curious and interested in people. I really want to know all about you!
In this profession, we as therapists don't often talk about ourselves. I truly believe the therapeutic relationship is about you, not me. Having said that, a relationship is by definition inclusive. I approach each new relationship with excitement, openness and curiosity about what it will become. Each is unique, and what we both bring is an important part of the growth and healing possible in the therapeutic relationship.
A little about what I personally bring to the relationship: I have roots in the Midwest, which gave me my strong sense of family, personal values and integrity, but I consider myself a true Californian. I've experienced life in the Bay Area both before it became Silicon Valley, and during its growth and transformation into what it is today. I grew up here, I was educated here, I raised a family here, and I probably have many shared experiences with you. I don't talk about myself much, but I bring my wealth of life experience into my role as a therapist. I am often feeling completely connected to the way you tell me you feel. I like to listen, and I genuinely want to hear you. I don't come from a place of "knowing", but rather from a place of non-judgmental curiosity, understanding, and acceptance.
My foundational therapeutic theories are psychodynamic, attachment-based, and systems oriented—which means I spend a lot of time initially building safety and rapport in the relationship with you. I think it takes time for people to develop trust in knowing they are safe to start working through the tough stuff, and I will follow your lead on when that time is right.
I also consider myself an integrative and adaptive therapist. You are unique, the therapeutic relationship between us is unique, and one size doesn't fit all. I will pull ideas and techniques from many theories as we explore together what works for you.
I believe healing happens through the therapeutic relationship, especially with early life trauma and failures in the family system. We are often injured by our relationships, including those very early formative relationships, which become models for how we view and expect to be treated in relationships in our future.
The therapeutic relationship is a different kind of relationship. You get to bring you. You get to feel safe to talk about the things that matter most to you. You get to be heard and understood with compassion and empathy. You get to explore how you feel and what you want—who you are—without judgment. We will look at what is working for you and explore what isn't working for you. We may seek understanding of how your current behavior patterns were formed and how some things that worked for you in past relationships aren't working for you in your current relationships. Are you being the best you, or are there some changes you might want to make? We will work together toward your goals.
Education & Qualifications
California Licensed Marriage & Family Therapist # 93687
Licensed to work with individuals, couples, families, and groups of all ages, including children, adolescents, young adults, adults and seniors
California Licensed Professional Clinical Counselor # 4465
Licensed to work with individuals, couples, families, and groups of all ages, including children, adolescents, young adults, adults and seniors
MA in Counseling Psychology from Santa Clara University, 2014
Emphasis on Marriage & Family Therapy and Professional Clinical Counseling
Santa Clara County Suicide and Crisis Services
5 years as a Crisis Counselor on the Suicide & Crisis Line
Face-to-face grief counseling with family members surviving a loss to suicide
Community Health Awareness Council (CHAC) - 2013 through 2017
2 years as a CHAC Counselor in an alternative high school program
1 year as a CHAC Counselor on an elementary school campus
1 additional year in the agency setting as a licensed MFT
Professional Associations:
Membership in CAMFT since 2012
Membership in SCV-CAMFT since 2013
Verified Member Psychology Today, since 2016
Membership in ICEEFT
Membership in NCCEFT
I enjoy working with adults of all ages, adolescents, couples: people moving through life's transitions, facing challenging situations or relationship issues. I am good with crisis and mental health issues.
I work well with young adults and adolescents navigating the journey from childhood to adulthood, including the challenges inherent in finishing high school or college and taking those critical next steps in life.
In working with couples, emotional connection is often the key. I work primarily within the Emotional Focused Therapy (EFT) model for couples. I like to spend time getting to know each person's unique style of communicating, seeking emotional connection and making meaning, to help facilitate the ability hear each other and reconnect in making meaning together.
© 2017 Janice McCullough
LMFT93687  LPCC4465
1000 Fremont Ave #250-C
Los Altos, CA 94024